Since its inception, Ethereum has been the leading smart contract platform, preferred by most developer teams. However, due to the constraints of the blockchain trilemma, it became apparent that Ethereum will not scale without upgrades like layer 2, rollups, or Eth 2.0. The need for a cheap high-performance blockchain became apparent in the market and the narrative led to many Ethereum competitors being developed by various groups. In this article, we explore the ecosystem of Solana, one of the leading blockchains that was built on this narrative as a competitor to Ethereum.
The recent few months saw a massive rally in the price of L1 tokens. The price action can be explained as a general recovery of the bullish sentiment coupled with growing ecosystem developments on many of the layer 1 blockchains. Solana is one such L1 chain that saw a massive price rally rising to the top 10 of the cryptocurrency market cap rankings. The Solana ecosystem is rapidly growing across various sub-sectors with over 400 projects developing across DeFi, NFT, and infrastructure use cases. This immense growth in new project development despite a different programming stack to EVM chains can be attributed to Solana's commitment to community building, organizing hackathons, and running an active ecosystem fund.
In this article, we briefly look at the technical achievements of Solana and then go over some of the major protocols that are part of the Solana ecosystem. With the goal of presenting a broad look at the impressive growth of the Solana ecosystem.
What is Solana's technical edge?
It is well understood that decentralized networks such as blockchains must create a balance between three core principles, scalability, security, and decentralization. Solana has high throughput(scalability) which comes at a cost of its degree of decentralization. Although Solana is considered to be decentralized 'enough' by many in the space, the fact is that it requires much beefier hardware compared to other L1 chains in order to run a Solana validator node, indicates that Solana has a higher entry barrier for someone looking to become a validator. As of 10th November 2021, the number of active validators on the mainnet is 1173.
On the flipside, Solana's validator network consists of high-end hardware which allows the network to benefit from the processing capability of the faster hardware. It also means that Solana can scale higher with Moore's Law and improvements in hardware technology.
A unique consensus model
According to Solana co-founder Anatoly Yakovenko, one of the main technological innovations that allow Solana to sustain a high throughput is its hybrid consensus algorithm. Solana uses a PoS consensus model with an additional layer known as 'Proof-of-history' (PoH) on top of it. The idea is that sequential production of valid blocks is hindered due to validators having async clocks and requiring time to ascertain the correct order of messages in the network. PoH allows for sending of cryptographic proof of the relative order of each message which ignores all local clocks and accommodates potential network delays
Proof-of-history is not a consensus algorithm and works as an additional layer that adds objectivity to the network
Solana's 8 core innovation
Aside from the unique consensus using 'Proof-of-History' the Solana team has developed 7 more key technologies that allow the network to operate at scale. These are summarized here: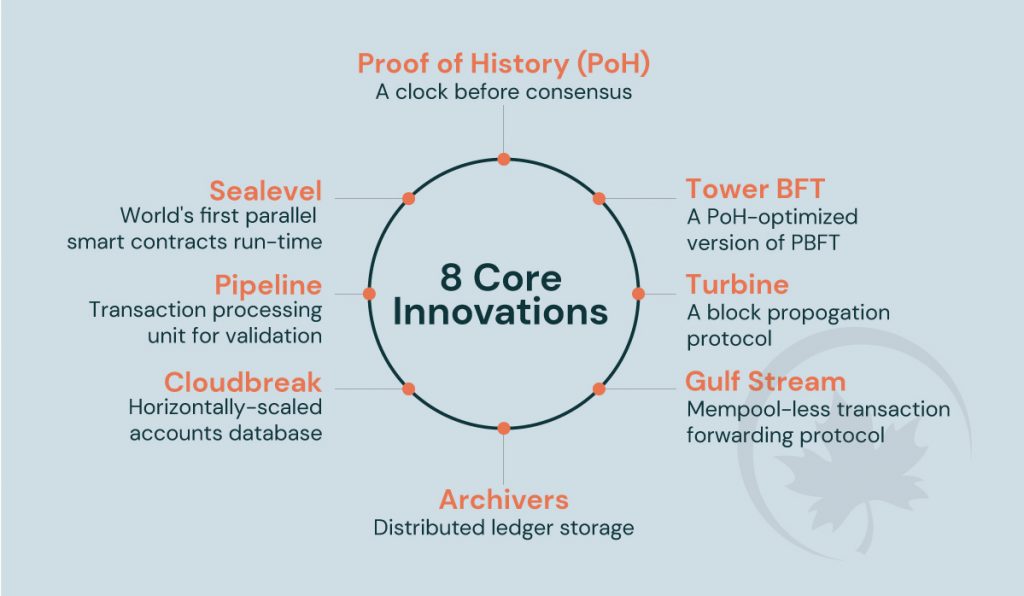 Solana Community
Solana ecosystem has been actively organizing hackathons with large prize pools to attract new and existing talent into their ecosystem. These hackathons have given an initial momentum to many teams that have contributed immensely to the Solana ecosystem. As of November 2021, Solana has organized 5 major hackathons. The latest 'Ignition' saw participation from over 500 teams: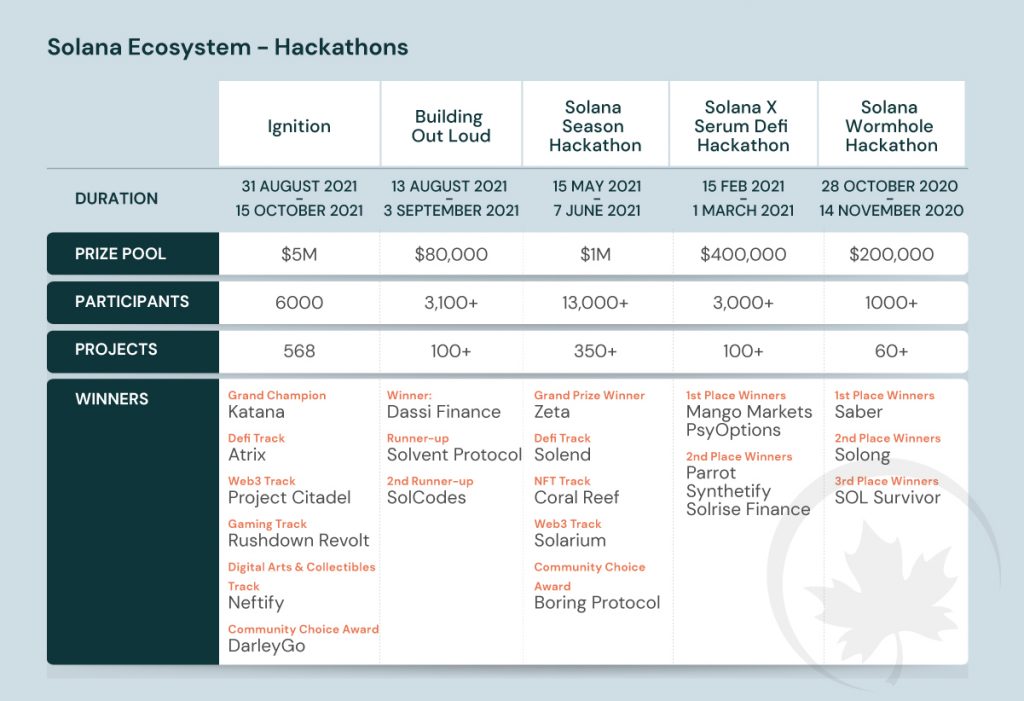 The Solana Foundation also organized 'Breakpoint', the first edition of Solana's annual conference aimed at bringing together the entire community and celebrating their accomplishments. The event took place in Lisbon, Portugal from November 7th to 10th 2021.

Onboarding liquidity – Wormhole
Bridges act as a pathway for liquidity to flow from existing L1 ecosystem to newer onces. The Solana ecosystem has several active bridges like APYSwap, Allbridge and Wormhole, that connect to larger chains such as Ethereum and BSC. One of the most powerful being Wormhole. Wormhole is a bi-directional cross-chain bridge that works across Solana, Terra, BSC, Polygon, and Ethereum networks. Wormhole is helping Solana expand its ecosystem to other blockchains and help other blockchains to utilize Solana's high speed and low transaction costs and interact with Solana-based Dapps.
Wormhole uses decentralized cross-chain oracles called guardians. The guardians are operated by a set of nodes. They ensure all the burn/mint transactions on both the blockchains involved.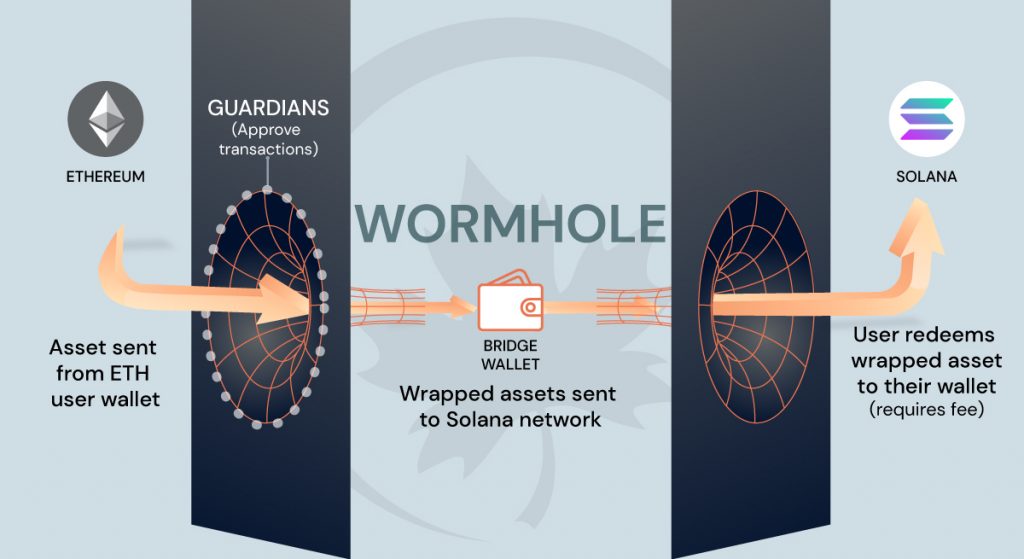 The bridge creates a wrapper and mints a wrapped version of the token on the other blockchain. When moving wrapped assets from the bridge to another blockchain it does not apply the wrapper twice. It needs to be noted that when moving an asset such as ETH (SPL) to Ethereum, users will not receive ETH(ERC20) on Ethereum, unless they move a wormhole wrapped version of ETH from Solana.
DeFi on Solana
DeFi TVL on Solana protocols saw a massive rise starting August. The TVL jumped from just over $1 bn USD to just under $15 bn USD in just 4 months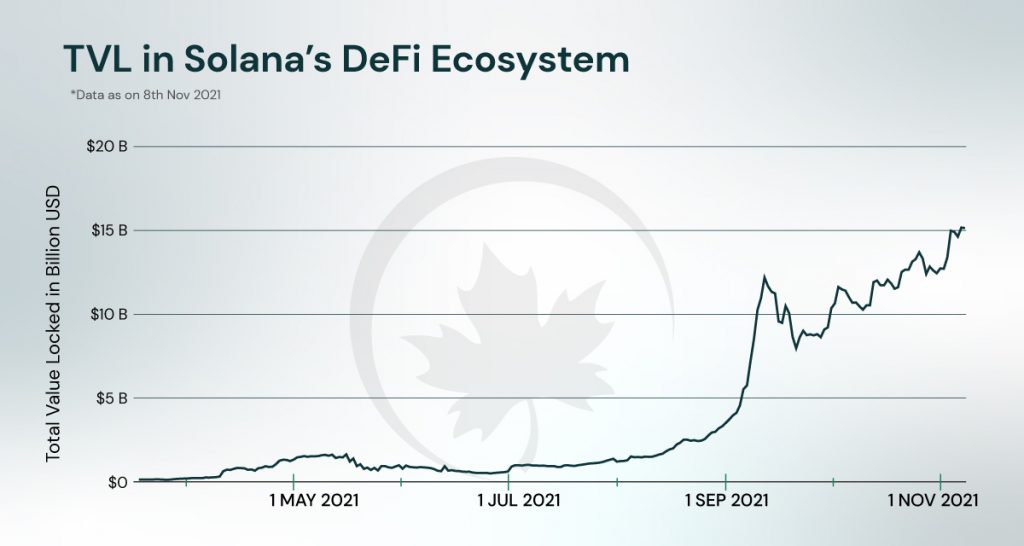 Top 5 Defi projects on Solana by TVL: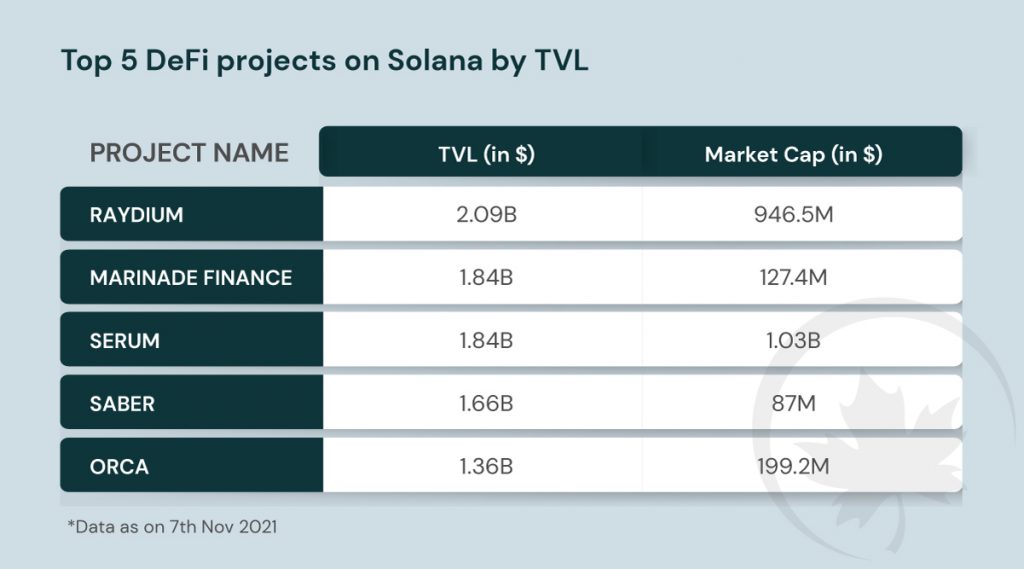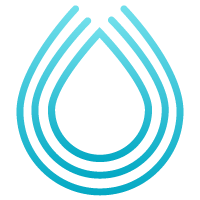 Serum
Serum is a protocol built for decentralized exchanges with an on-chain orderbook.
Serum empowers the DeFi ecosystem by bringing in the best of both CeFi and DeFi. It's on-chain orderbook gives users the ability to choose the price, size and direction of their trade. In addition, Serum also has cross-chain support, wrapped tokens, and room for creating novel financial products.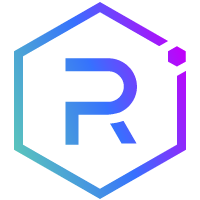 Raydium
Raydium is an AMM built on the Solana blockchain that enables fast trades, shared liquidity and new features for earning yield.
The project leverages the power of Serum's CLOB(Central Limit Order Book) to provide extremely fast transactions and enhanced trading features. Unlike other AMMs and DeFi protocols, Raydium is able to access liquidity across different pools apart from its own. AcceleRaytor, a sub-project of Raydium, serves as a decentralized, community based launchpad for the new and upcoming projects on the Solana blockchain. AcceleRaytor has helped 11 projects (as of 25th September) raise capital of over $3.2 mn.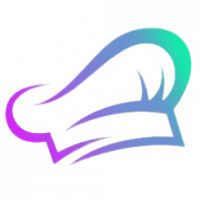 Marinade Finance
Marinade Finance is an automatic liquid staking protocol which allows users to instantly stake and to unstake any amount of SOL.
Marinade automatically compounds users' staked income into the staked SOL token. There is no lock in period. Marinade team manages staking accounts and monitors the validators themselves. The current APY on the platform stands at 6.67% APY.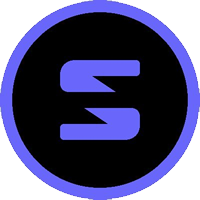 Saber
Saber is a decentralized exchange (DeX) focused on stablecoin swapping and staking.
Saber enables cross-chain stable coin exchange on Solana. It is Solana's core cross-chain liquidity network helping in the transfer of assets from Solana to other blockchains. Market makers can deposit crypto into a Saber liquidity pool to earn passive yield from transaction fees, token-based incentives and more. Saber was the first Solana protocol to reach a TVL of $2B+.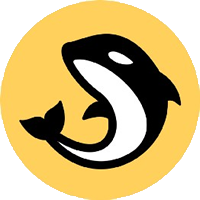 Orca
Orca is the most user-friendly AMM DEX on Solana.
Orca is one of the first general-purpose AMMs launched on Solana. Users can swap assets, provide liquidity, and earn yield through an easy-to-use interface. Orca also has a fair price indicator that ensures market rates and minimum slippage. With its fast speed, the exchange claims to have lower latency than any DEX on Ethereum.
The rise of Solana in the NFT space
NFTs are a way to represent anything unique as an asset. NFTs are giving more power to content creators than before. Solana is marching in the NFT ecosystem by leveraging the bridges it has with Ethereum and Binance Smart Chain. According to Cryptoslam, Solana is ranked 4th in terms of NFT sales by volume as of 8th November 2021. Some of the most popular collections are 'Degen Ape Academy' and 'Aurory'
Some prominent projects that have applications around NFTs are: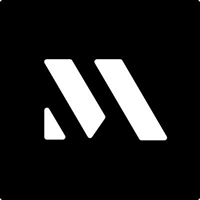 Metaplex
Metaplex is a Solana-powered protocol that allows for the creation and minting of non-fungible tokens, auctions, and visualizing NFTs in a standard way across wallets and applications.
Your Metaplex Storefront connects to an on-chain decentralized program that mints and sells your NFTs, removing the middleman (and their fees). Metaplex digitalizes the division of royalties between artists and brands, making it a seamless process. With multiple projects under its umbrella, Metaplex community has managed to pull 400M+ NFT and collectible sales so far.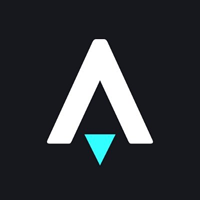 Star Atlas
Star Atlas is a metaverse wherein the user explores the world to find precious NFT based gems.
Nanite, Unreal Engine 5's virtualized geometry system has been used to create a cinematic-quality video game. Players have full ownership of the assets they accumulate in the game with the opportunity to sell those NFTs on secondary NFT marketplaces. Players can create cities and build macroeconomics or even create DAOs. Direct integration with Serum has given players access to Automated Market Making on various liquidity pools, along with yield farming opportunities.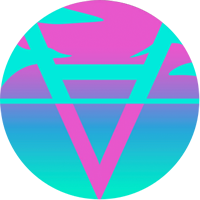 Aurory
Aurory is a gaming platform based on the play-to-earn mechanism, with a special focus on education.
They actively lean into encouraging decentralized finance (DeFi) enthusiasts in their game with features such as staking, and collateralization of NFTs. Aurory players can earn tokens ($AURY) and NFTs by playing the game, which can later be used to buy items in the marketplace and improve their chances of success in the game.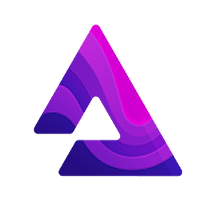 Audius
Audius is a decentralized music streaming service with social media features.
With an ecosystem of 6M+ users, Audius uses the high throughput capabilities of the Solana blockchain to cater a seamless experience to its user base. Audius has been successful in creating a decentralized community of artists and listeners where the artist is directly compensated without interference of any middlemen. Audius has been backed by the top names in the music industry,( The Chainsmokers, Katy Perry, Nas, Jason Derulo).
Infrastructure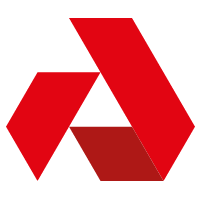 Akash
Akash is a decentralized cloud computing platform.
Akash provides users with one of the best centralized and decentralized cloud experiences. Provisioning and settlement happen on-chain but the deployment of the smart contract happens off-chain. Akash's decentralized cloud will help the Solana nodes function without any extra cost or external dependency on centralized cloud services. Users will be able to run intense smart contracts on Solana and pay using AKT(Akash Token).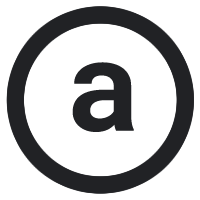 Arweave
Arweave offers decentralized and permanent storage. It acts as a tamper-proof collective hard drive which helps in perpetually preserving information.
The protocol matches people who have hard drive space to spare with those individuals and organizations that need to store data or host content permanently. SOLAR Bridge, a connection between Solana and Arweave, progressively and automatically stores ledger data from the Solana blockchain onto the permaweb, ensuring that Solana's entire ledger history is made available on public infrastructure in perpetuity.
Oracles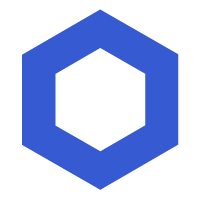 Chainlink
Chainlink is a decentralized Oracle network which securely connects smart contracts with off-chain data and services.
Chainlink allows blockchains to securely interact with external data feeds, events and payment methods, providing the critical off-chain information needed by complex smart contracts to become the dominant form of digital agreement. Independent nodes are used to protect against any single point of failure. By outsourcing the oracles, Dapps won't suffer from any setbacks that might occur while trying to deploy self-made oracles.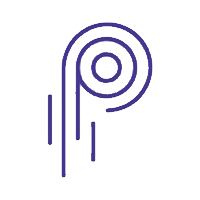 Pyth
Pyth Network is an oracle network providing the infrastructure for DeFi to support reliable, institutional-grade market data oracles. A rapidly increasing base of data providers helps Pyth Network in processing latency-sensitive data. Terra relies on Pyth Network's market for bridging information across Wormhole
Tools/Explorer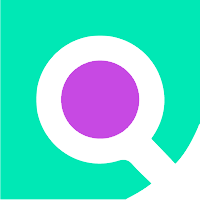 SolScan
Solscan is a scanning tool that tracks all of Solana and Solana-related token transactions.
Solscan provides details like block height, market capitalization and recent transactions with miner rewards.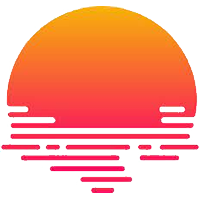 Solana Beach
Solana Beach is a block explorer which highlights core Solana statistics.
It provides a bit of an in-depth view of the Solana network. Validator names and transaction speed can be seen on the dashboard.
Wallets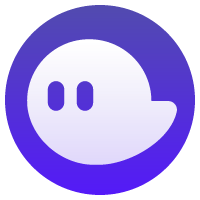 Phantom
Phantom is a digital wallet in the form of a chrome extension supporting SPL as well as NFTs. It provides an easy way for anyone to store, send, receive, collect and swap tokens on the Solana blockchain. The project recently launched its mobile application providing more flexibility to the users.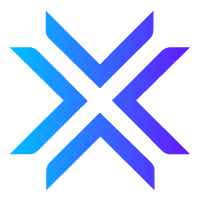 Exodus
Exodus supports SOL tokens, its wallet is available in desktop, mobile, and hardware wallets as well. It provides support for around 150+ cryptocurrency assets and SOL is one amongst them.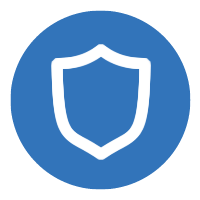 Trust Wallet
Trust wallet is a mobile-based wallet that can be downloaded from the iOS or Google Play Store. The wallet also provides an easy and secure way to store and access crypto collectibles on Ethereum and Binance Smart chain.
Applications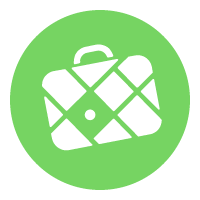 Maps.me
Maps.me is a leading offline mapping and navigation app.
The app has over 140M registered users globally and over 9 years of history. With Maps.me 2.0, Maps is providing DeFi powered financial services. Maps.me will leverage the DeFi capabilities available in the Solana ecosystem to provide yield farming, lending, and staking opportunities to the users.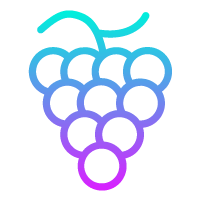 Grape
GRAPE is a decentralized social networking protocol.
GRAPE builds on top of existing social networking platforms and adds a decentralized taste to it. It links the userID with unique cryptographic keys. Different features can be availed by using the $GRAPE token. GRAPE has raised $6M through Raydium's launchpad – AcceleRaytor.
Conclusion
The rapidly expanding ecosystem powered by high throughput, low transaction fees, and interoperability is helping Solana to grow its ecosystem across different use cases in DeFi, Web3 and NFTs. The continuous community building and engagement efforts of the Solana ecosystem has resulted in a lot of developer interest moving to Solana. Wormhole and other bridges have helped bridge liquidity to Solana allowing for the growth of Solana DeFi vaults and farms.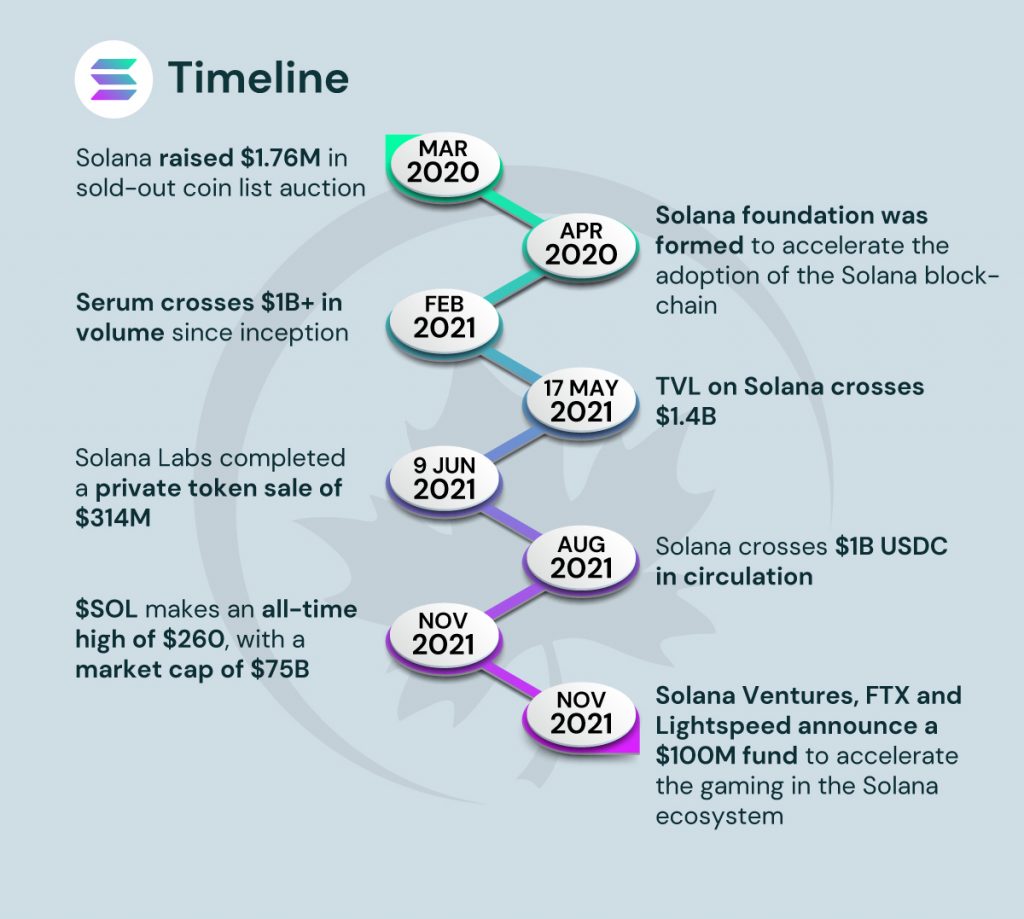 Disclaimer: This article is a summary of the writers opinions and research. Digital assets are a volatile asset class and readers should be aware of the potential risks of investing in blockchain projects. This is not investment advice & we will not accept liability for any loss or damage that may arise directly or indirectly from any such investments.
References
https://docs.projectserum.com/introduction/why-solana
https://solana.com/solana-whitepaper.pdf
https://github.com/certusone/wormhole
https://medium.com/solana-labs/7-innovations-that-make-solana-the-first-web-scale-blockchain-ddc50b1defda