Introduction
NFTs have exploded in popularity as of recently. From Nyan cat meme to artificially generated ape cartoons, NFTs have taken over the art world, but keeping its colourful and bizarre side aside, the technology is revolutionizing how digital collectibles can be stored and traded, and now is permeating the Music industry. Musicians now find themselves with another avenue to monetize their work, while NFTs allows fans to collect and monopolize art such as audio files and images surrounding their favorite artists.
What is LimeWire?
A name synonymous with millennials, LimeWire originally started as a P2P file-sharing platform for music and films in 2000 and was continually active for a decade with millions of monthly users. But, in 2022, it returns as an NFT marketplace for the music industry with community hosting features for artists and fans. LimeWire facilitates sales and trading of music-related NFT assets such as limited editions, pre-release songs, unreleased demos, graphical artwork, exclusive live versions, digital merchandise, and backstage content.
Market Dynamics
The NFT market has been growing at an incredible rate over the period of past several months. The industry witnessed over $17 Billion of transactional volume in 2021, registering YoY growth of 21,350%, while the secondary market brought $5.4 Billion in profit. The number of wallets/users and transaction count have also grown at a remarkable rate since 2020, but recent adverse macroeconomic conditions and extreme price volatility in the cryptocurrency market have resulted in relatively poor 2022 figures. As for the subsector concerned with music, several successful projects have emerged as more prominent artists such as The Weeknd, Eminem, and Snoop Dogg leverage the technology.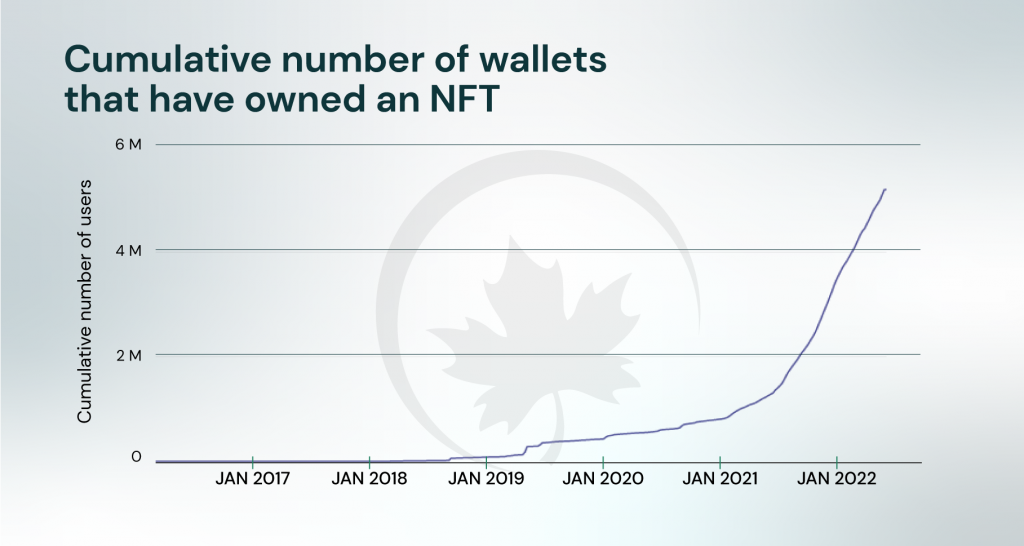 OpenSea continues to dominate the NFT landscape as the go-to marketplace, but multiple competent platforms have emerged as more artists enter the space.
LimeWire Product Features
LimeWire is a custodial NFT marketplace that services the primary and secondary markets. The platform offers various features to increase accessibility to mass markets and ensure seamless processing of transactions.
LimeWire has secured a strategic partnership with Wyre, a leading payments and wallet service provider, to enable traditional fiat payment channels such as credit cards and debit cards along with crypto.
The product offers a simplistic user interface with Web2 elements to appeal to larger demographics.
The platform will be built on the carbon-neutral Algorand chain to minimize gas fees.
With attractive commission rates, artists will receive 90% of the value for NFT drops and a 5-15% royalty fee in the secondary market.
LimeWire also aims to build an artist-based community around the marketplace, creating another avenue for fan engagement.
Creators can attach "unlockable" content to NFTs, such as unique voice recordings that only the buyer can download.
Artists can also use NFTs for in-person events such as lifelong backstage passes.
Creator profiles will also be socially verified to ensure authenticity.
Central to the platform's ecosystem will be the $LMWR token. Token holders will receive various benefits on the forum.
A VIP level will be attached to the customer depending on the amount of LMWR tokens held. Accordingly, a percentage of the customer's token volume would be given as a weekly reward.
Token holders will be given a concession on the commission fees depending on the VIP level.
Token holders will also receive unique community benefits such as exclusive entry to parties and events, early access to LimeWire NFT collection drops, and free merchandise.
LimeWire further aims to establish LMWR Weekly charts and the LimeWire foundation, where token holders get voting rights to promote their favorite artists. The LimeWire foundation will reward the most endorsed artists with grants. This can be highly beneficial for small-time artists.
After securing a position within the niche music NFTs sector, LimeWire also intended to secure partnerships with Film studios and producers and eventually open up to the greater digital art space.
Market Competition
LimeWire's offering is substantially differentiated from the existing NFT marketplace platforms.
Roadmap
Team
Paul & Julian Zehetmayr( Co-founders & CEOs)
Serial tech entrepreneurs, jointly founded MobFox (exited), APILayer (exited), eversign, and ZeroSS, both under the Stack Holdings umbrella. Both Paul & Julian are developers by background and have been deeply involved in the crypto space personally for the last several years. They have proven and hands-on experience (developed e.g. MobFox and APILayer themselves) in building intuitive Saas products with a focus on seamless UI/UX, bringing products to market quickly and efficiently, as well as a track record scaling them (APILayer had >500k B2B users, Stack Holdings currently has >2m users) to exit.
Marcus (COO) is an experienced manager in the crypto as well as the broader financial services industry. Before joining Limewire, he was the Country Manager DACH at Bitpanda – being fully responsible for the company's operations and marketing in Germany, Austria, and Switzerland. Prior to that he was working as a Strategy Consultant in the Financial Services industry at Boston Consulting Group, and founded and ran a FinTech company in London for over 2 years.
Ivis (CCO) has a strong background in branding, marketing, and communications. Her previous positions include Global Head of Communications and Brand at Bitpanda, Communications and Brand Lead at Foreo, as well as Marketing Manager at Rimac.
David (CTO) is an experienced developer and CTO and has previously already worked together with the co-founders' Paul and Julian leading the development departments at MobFox and ZeroSSL.
Reinhold (CFO) has a strong finance background having acted as CFO for multiple portfolio companies of the co-founders.
Conclusion
NFTs are integral to the future of music, and the overall entertainment industry as it brings about an unprecedented change to the artist-fan dynamic, and LimeWire, with its prominent history which evokes a deep sense of nostalgia among the core demographics and an extremely competitive product with several unique features, is very well placed to become a dominant player in the years to come.