Introduction
The concept of insurance traces back to ancient times. From health to business, Insurance is a way to shield from unfortunate incidents. The emerging nature of the crypto market makes it a target for black hats leading to the downfall of projects and tools of great potential. One of the protocols targeting the insurance sector in the world of crypto is Neptune Mutual.
What is Neptune Mutual?
Neptune Mutual is a parametric cover protocol. It provides financial protection to policyholders against a predefined set of parameters. The policyholders pay a premium to obtain coverage for a chosen amount and period.
Market Scenario
Since the beginning of 2022, $5bn+ worth of DeFi hacks have happened. Protection against these kinds of unfortunate incidents is the need of the hour. The TVL in insurance protocols is ~$480mn, while the TVL in all of DeFi is ~$78bn as of July 2022. The significant gap exposes the lack of protection against DeFi attacks.
Top 4 Insurance protocols by TVL
Insurance is one of the untapped markets in the crypto space. With the number of newbies boarding the DeFi train, a large-scale market has also opened up for scammers. It is becoming a basic necessity for DeFi protocols to choose a reliable insurance provider.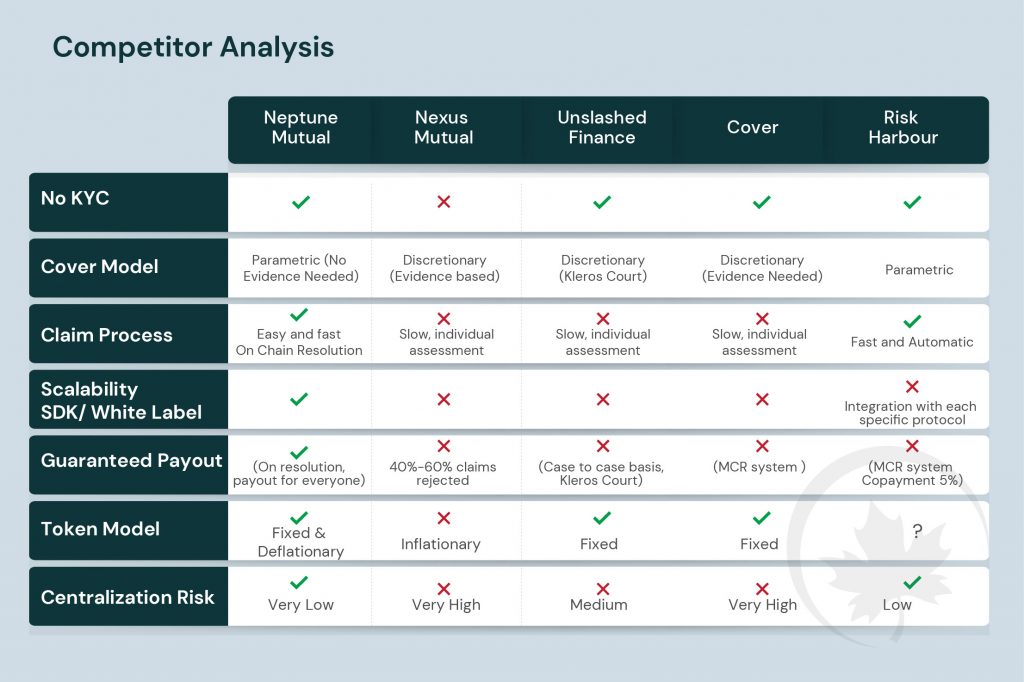 How does Neptune Work?
To obtain cover for a predetermined length of time and desired amount, policyholders must pay a premium (also known as a cover fee). The parameters for each given cover pool are transparent and consistent and can also be independently confirmed.
Users are not required to produce proof of loss, and loss adjusters are not required to verify or evaluate claims. Because there is no need for a case-by-case analysis as there was with Nexus Mutual, the claims payout is a quick and straightforward process.
To defend policyholders from DeFi assaults, the parametric model is crucial in the insurance sector. Additionally, since this coverage model does not require the assistance of a claims assessor for settlements, it is simple and quick to collect payouts.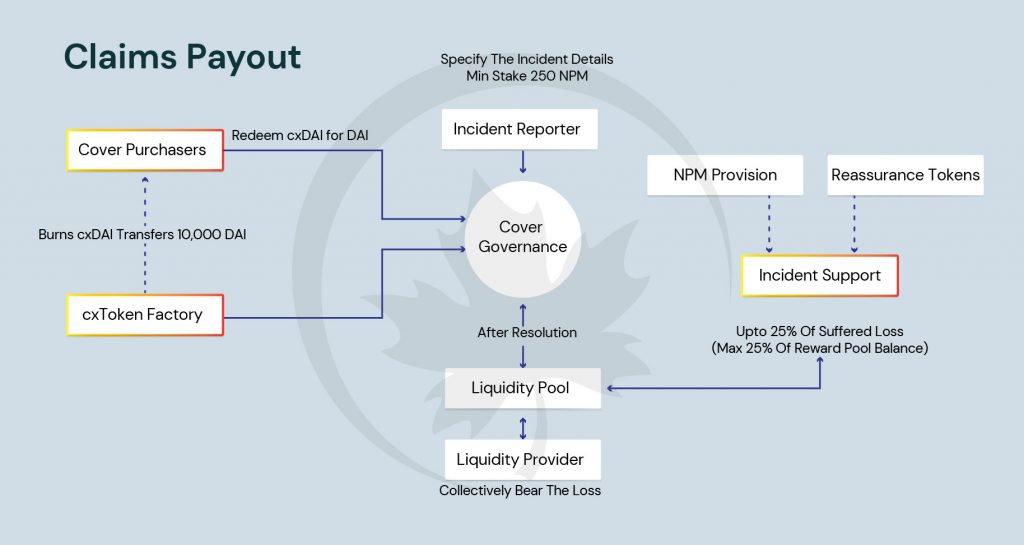 Power to Create Covers
Neptune Mutual knows that the cryptocurrency industry moves quickly and that some new hazards might surface. Neptune Mutual's parametric cover marketplace gives DeFi, CeFi and Metaverse projects the ability to create bespoke digital asset protection policies for their own projects. This helps build engagement and trust with their communities by providing digital asset protection for policyholders and the opportunity to earn a stablecoin return and other rewards for liquidity providers.
Neptune Mutual has developed an onboarding process for potential cover creators that is designed to select high-quality and reliable projects. Following approval, cover creators are required to stake NPM tokens to initiate the cover creation process. The tokens will be burned after creation.
Attracting liquidity providers is essential for cover pools, and an extensive article has been written to guide cover creators through the best practices of bootstrapping cover pool liquidity.
The benefits of being a liquidity provider:
Roadmap & Milestones
The $NPM Token
$NPM, the Neptune Mutual Token, is utilized for staking and governance. To generate new covers, users can stake $NPM tokens. You need at least 5000 $NPM tokens to form a cover pool. Cover fees are the primary revenue stream for the cover pool and are used to provide a return for liquidity providers.
Protocol fees amount to 6.5% of the cover policy premiums These fees may be used to cover protocol administration costs and may also be used for other purposes including the purchase and burning of $NPM tokens.
Team
Binod (Co-Founder and CEO of Neptune Mutual) is a blockchain industry veteran with expertise in writing and auditing smart contracts, exposing hacks and exploits, and developing various blockchain applications. He was previously the CTO of InvestaX.
Gillian (Co-Founder of Neptune Mutual) is the founder of Mulana Capital, a crypto VC fund. As a former CEO of Huobi Asset Management, she built the business line from scratch and managed to get the SFC virtual asset manager license in Hong Kong. The prequel to this is a decade-long experience working in the insurance industry.
Edward (Co-Founder of Neptune Mutual) manages the operations and finance at Neptune. He is an adjunct professor of Entrepreneurship at KEDGE business school. Besides this, Edward is also a startup investor and mentor.
Conclusion
Neptune is progressing towards capturing the untapped crypto insurance market with an approach that avoids the shortcomings of current insurance protocols and with a model that is inherently scalable, transparent, and reliable.. They have simplified the insurance model in the crypto space to a great extent for both policyholders and liquidity providers. We are glad to back Neptune in its mission to cover, protect, and secure on-chain digital assets.